Local Non-Profit Prepares Youth for IT and Retail Jobs in Jacksonville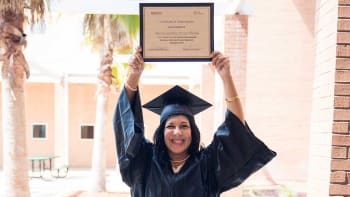 Focused on decreasing the local youth unemployment rate, non-profit Generation helps students get employment offers before they graduate.
Nearly 30 students crossed the stage in a graduation ceremony last Friday at Florida State College's downtown Jacksonville campus, many with the promise of employment or promotion as they accepted their certificate. These students, part of local non-profit Generation's Information Technology (IT) and Retail Career Advancement programs, join a Jacksonville alumni network of nearly 200 graduates and a global network of 10,000.
With 90% of students already employed before they graduate, Generation is a youth employment non-profit with a dual mission to empower young people to build thriving, sustainable careers and to provide employers the highly-skilled, motivated talent they need.
Nineteen out of 20 students in the IT program are already employed at local companies like Convergys and Fanatics in Jacksonville. Two graduates are starting internships with C7 Creative.
"The Generation IT program really gave me the knowledge, tools, and confidence to go out and get what I was looking for," Brandon Mead, one of Friday's graduates said. "Because of them, I'm now employed full-time at Convergys (Jacksonville) doing iOS support. I feel totally confident in my abilities and know I'm where I want to be. I'd 100% recommend Generation to anyone looking to get that head start in your career," he said.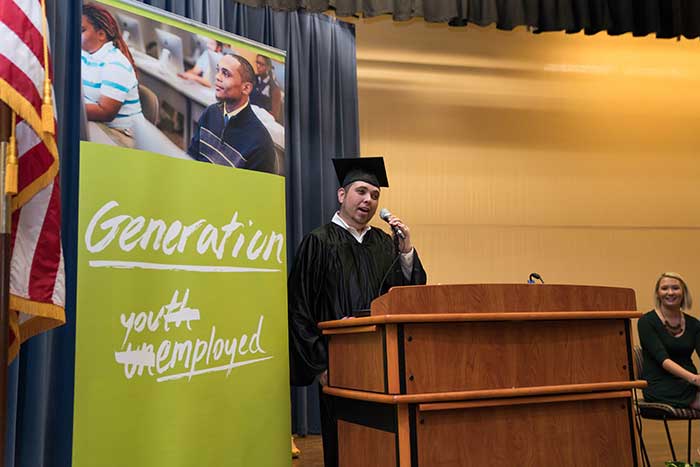 The IT program is an 11-week course in which students learn to set up equipment, install hardware, learn software installations, and soft skills such as problem-solving strategies and certifications. The program teams employers and students post-graduation and provides mentorship for up to a year after graduation. IT students learn basics of hardware and software in prep for the CompTIA Fundamentals and A+ Certifications. They also learn the Generation behavioral and professionalism skills such as cover letter and resume writing and interviewing best practices.
Aiming to reach 1200 total students in Jacksonville, the retail career advancement program is 6 weeks, and meets three times per week at Fresh Ministries in Jacksonville. Students engage in networking opportunities and have the opportunity to earn a nationally-recognized certificate from the National Retail Federation. Students graduating in last Friday's cohort have earned promotions and job offers with companies like Norman Media and Amazon.
Funded by a grant from Career Source Northeast Florida (IT) and Walmart Giving (Retail Career Advancement), Jacksonville's programs focus on empowering youth who have faced significant barriers in their lives, such as students who were previously in foster care, had experience with the juvenile justice system and/or those who are pregnant or parenting. To ensure a holistic approach to empowering and uplifting Jacksonville young people, social support and mentorship is available to all students throughout the course. Generation ensures that graduates continue to have access to support and regular follow-up contact for the first six months of their employment.
To date, nearly 200 students have graduated from Generation's three Jacksonville programs – Retail Career Advancement, Technology, and Hospitality — in the past two years. Together with a range of partners, including a coalition of 60+ local businesses, non-profits, and education providers, Generation's classes provide Jacksonville young adults accelerated training as IT technicians and customer service, pharmacy technicians, and hospitality professionals.